this post was published in August 2010, head over to our photos to see how things have changed since then :-)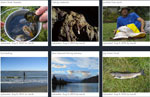 Today I'm excited to announce a new feature at fishingreminder.
It is now possible to share, discuss and rate fishing photos.

I would like to invite all registered users to upload their fishing photos and show us their best catches, fishing spots, tackle choices and all other fishing related pictures you could think of.

After a bit more development we will be able to search all fishing photos and filter photos by usernames, ratings, keywords, etc
The gallery is brand new and in a testing phase.
If you encounter any problems or have any suggestions, please send me a message.

As always - any feedback is more then welcome.