Finding The Right Custom Fishing Shirt Anglers everywhere are always looking for the perfect fishing shirt, that they can customize with their boat name or company name, favorite fish, etc.
There are many different factors to look at when choosing the right shirt.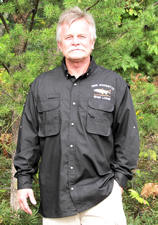 1) Fabric: For years cotton was the fabric of choice. I was one of the anglers that had to have cotton until I finally broke down and tried a cotton/poly blend. The 100% cotton gets wet and heavy with perspiration in warm climes, doesn't dry leading to a wet, soggy, uncomfortable shirt. The cotton/poly blend fabric, slightly brushed, wicks away moisture and dries quickly creating constant comfort. I've also found that the blend works better in cooler climes because it cuts the wind, cold better. Seems strange that a fabric can breathe less but stay cooler as it cuts the wind and cold but it does.

2) Style/Cut: So many different factors here. Body shape, type of fishing, are just two factors but gets you thinking in the right direction. A shirt that is cut generous is the key. Too many fishing shirts are cut with what I call a corporate cut. It limits movement. We aren't wearing these to the prom or to flex in. We want a shirt that we can cast a fly, throw a surface plug, run up and the down the boat with no restriction of movement. Taller or bigger anglers want a shirt length that is adequate. So many are cut short. This leads to the shirt constantly coming untucked. The way the bottom of the shirt is cut ties into this as well. If the shirt is cut straight across the bottom with V vents cut on each side the angler can wear it out or tuck it in. Sleeve length is important. Find a shirt that has ample sleeve length. Double roll up collars come in very handy as an extra sun/neck protector. Ample pockets but not big bellowing sloppy pockets are also key. Last but not least the vent in the back needs to be large to accomodate 2 things, big back custom embroidery and maximum air flow. So many so called fishing shirts have small vents that are not embroiderable and do not breathe well. Avoid zippers and the such that corrode and add weight to the shirt. All fabric limits/restricts UV. None totally blocks it.

3) Customizing: From the very first days of golf shirts with an alligator, to polo players, embroidery/logo's have always been on the left chest. You can tell a fishing shirt manufacturer that does not think about where a custom embroidered logo is going to be put when the left side is not left unencumbered. When you see a fishing shirt with the velcro tab(actually a rod tip holder) on the left side it does not embroider well. When the logo is placed above that tab it is too high on the shirt and looks odd. Find a shirt with the rod tip holder/velcro tab on the right side. A persons name, ie. Captain John, fit's okay above the right side tab but anything more is too high. Left chest with no tab is correct. Finding a embroidery company with fish that look anatomically correct is the other hardship. So many people in the embroidery business want to put fish on a shirt but have no idea what the fish should look like or it's colors. They know nothing about fish/fishing. Find a company that loves it's fish as much as you do. Then it'll be right. Also make sure you can add some text to your fish of choice without breaking the bank.
In conclusion when looking for a nice, custom embroidered fishing shirt with your boat or company name, pay attention to these 3 things listed above and you will end up with a comfortable, good looking garment.
Article submitted by: Jim O'Keefe - O'Keefe's Reef 4488 Seaman Road Irons, MI 49644
O'Keefe's Reef