Since I started fishing with soft plastics over 10 years ago I've been through various rod and reel combos.
My passion is kayak fishing and when you fish from a kayak in saltwater, reels get a lot of abuse.
They get dunked in and sprayed with saltwater on a regular basis. There is also a good chance you loose them if you tip over and haven't secured them properly. It can get expensive very quickly if you have to frequently replace your high end reels.
So during my years of kayak fishing, shorebased spin fishing and through a lot of trial and error I found the best budget friendly spinning reel for soft plastics, lure fishing, spin fishing from shore, spin fishing for trout in lakes and rivers and even bait fishing on lightweight strayline rigs.
I prefer budget reels because I can easily replace them after a year or two without breaking the bank or going through all the hassle of servicing expensive and complicated reels.
My favourite spinning reel for this purpose is the Shimano FX 4000 FB spinning reel.
This reel is super cheap, solid as, has a great line capacity and drag, it's really smooth, I haven't met any fish that this reel can't handle when fishing from a kayak. I even managed to catch kingfish over a meter long over sandy bottom - but this was definitely pushing it and that's where it was at it's limit.
This reel spooled up with 15 lbs braided line and a 15 to 25lbs fluoro leader has accounted for 90 percent of all the fish I have caught over the last few years from my kayak and around river mouths. From big snapper, kingfish, huge kahawai, feisty rainbow trout, trevally, rig sharks, barracouta. All these fish are strong fighters and provide great fun on such a light gear. For me that is a 100% more fun way of fishing than just craning them in with heavy gear.
Of course this is a small reel and it needs to be coupled with a good light spin fishing rod to be effective. I'm using a berkley drop shot rod and this combination works a treat. It allows me to do long and precise casts with lures up to 1 ounce in weight.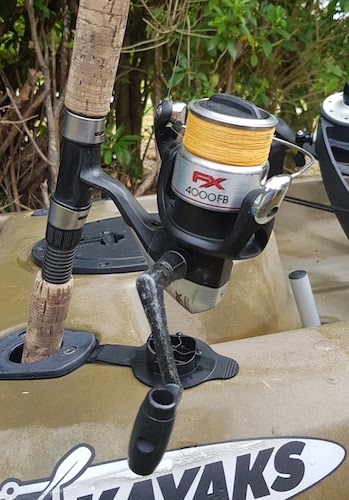 This cheap reel has some pretty good features and even it's got only on bearing it's just as smooth as more expensive reels with more bearings.
The max drag is set at 6 kg or roughly 12 pound. So a 15 pound braided line is the perfect match for this reel in terms of strength and castabilty.
If I wanted to have longer casts I would probably even go down to 10 pound braided line. I found that I can fit about 250 meters of 15 pound braided line on this reel with a bit of mono backing quite easily and I found that's more than enough for soft baiting and lure fishing.
Shimano FX FB 4000 Spinning Reel Features:
Retrieve Per Crank: 71cm
Bearings: 1
Max Drag: 6kg
Mono Capacity: 4kg/219m
Drag Type: FD
Weight: 340g
Powerpro Capacity: 6lbs/242yds
Gear Ratio: 4.6:1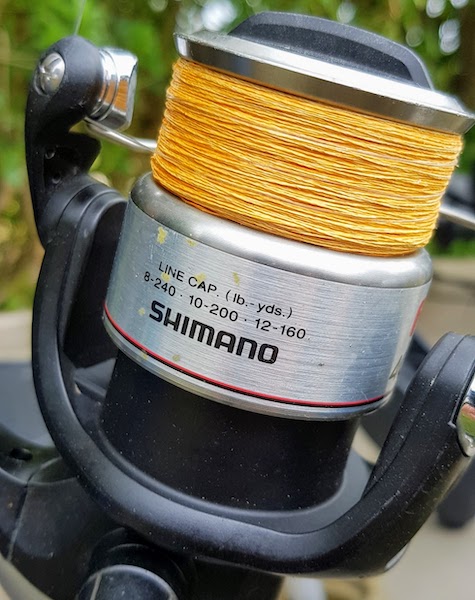 This reel is marketed as an entry level spinning reel for beginners or kids. In my opinion that's totally underrated.
Of course shops want you to buy more expensive gear and try to convince you that only the most expensive reels with all these fancy ball bearings will do the job properly. But in my experience that's just not true. So these entry level statements sometimes need to be taken with a grain of salt.
I recently compared this reel to a much more expensive penn spinfisher 3500 VI and find the Shimano FX 4000 FB just as good, if not better for my purposes.
So there you have it - if you need a great little and versatile spinning reel that doesn't burst your budget and that can take quite a bit of abuse give the old Shimano FX 4000 FB a try. I think you wont be dissapointed with this little reel. And if you loose it or if it breaks or locks up after a year or two - just buy another one for $20 and boom you got a brand new reel again without any hassle of cleaning, servicing.
Even if you decide to service and clean it - it's super easy to take apart and put back together.
I hope this article helps those who are looking for a budget friendly spinning reel that can handle the abuse of frequent fishing.
happy fishing
A nice kingfish caught with the Shimano FX 4000 FB