You might have seen a Fish Seeker Contiki being advertised on TV and were wondering if this thing actually works and can catch fish.
Well, you came to the right place. We recently met someone at a campsite who had purchased a Fish Seeker and was happy to show us first-hand how it works.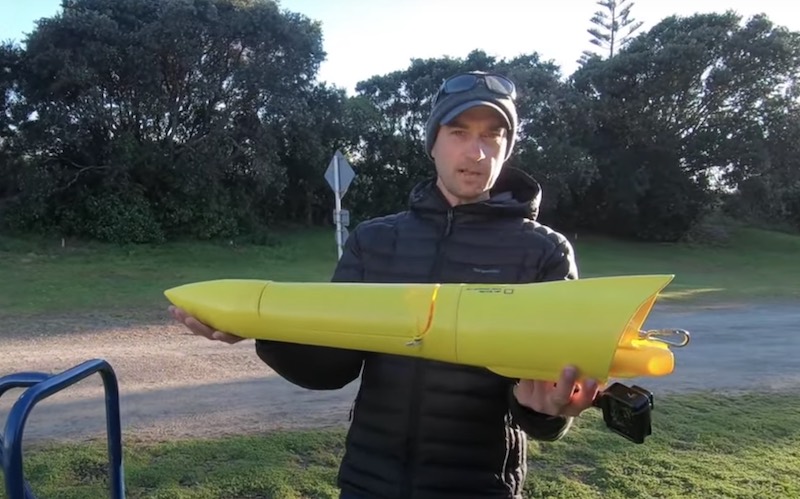 Make sure to check out our video about the fish seeker. You can find the link at the bottom of this article. We are not affiliated or in any way associated with Fish Seeker. This article and our video are independent reviews.
The Fish Seeker is being advertised as a compact fishing Kontiki.
Kontiki is a term used mainly in New Zealand for a device that is used to drag out long lines from a beach. Sometimes those devices are also known as beach torpedos.
In earlier days these devices were miniature rafts, powered by sail and could only be used in offshore winds. The sail was held in place by a hard candy that would slowly dissolve while the Kontiki was going out. Once dissolved completely, the sail would collapse and after some time fishing the Kontiki and fishing line could be pulled back to shore. Nowadays Kontikis are mainly powered by electric motors but the concept is essentially the same.
In New Zealand fishing Kontikis are a common sight on surf beaches around the country. You are still allowed to fish with long lines of up to 25 hooks. In many other countries, this is strictly forbidden, for good reason.
Most of the fishing kontikis used in New Zealand are large devices powered by 34-55lbs trolling motors and they are used in conjunction with large beach reels, spooled up with a heavy line and an electric winch. They are quite heavy and cumbersome. Most people will have a quad bike setup to transport their kontikis from and to beaches.
The idea of the Fish Seeker is to have a compact alternative that is easier to carry and set up.
The Fish Seeker can carry a maximum of 5 baited hooks. These baited hooks and traces are stored in a special compartment while the unit is going out to sea. Once the desired distance is reached the compartment opens and the hooks, traces and sinkers are dropped.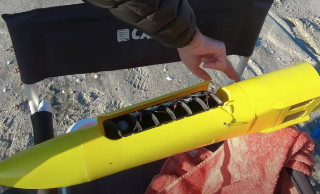 Like other Kontikis, the Fish seeker stays attached to the mainline and after some time fishing, everything can be pulled back to shore. For this, you can either use a beach reel, a large surfcasting reel or an electric reel.
Because the Fish seeker is much lighter than its larger counterparts you can get away with smaller reels. In our video, you'll see Arthur using an electric Shimano reel, spooled with 100lbs braided line. This seems to work quite well to pull the Kontiki, the line and any catches back to shore.
One thing I like about the Fish Seeker is that the mainline and traces are connected in a way that prevents the Kontiki from being lost in case the hooks get snagged or if a shark rips the line apart. So even if the traces are lost, the Kontiki still stays connected to the mainline and can be retrieved.
The fish seeker is also powered by two jet motors rather than one larger trolling motor.
This means that the propellers are protected from seaweed and other debris and the Kontiki can also stay on a set course by using a combination of an internal compass and the two motors for steering.
Another cool feature of the fish seeker is that it can be controlled and set up either by a mobile phone app via Bluetooth or a magnetic switch.
You use this to set the desired run time before the Kontik stops and releases the baits. The distance is just set by a timer. Roughly one minute of runtime equals 100 meters.
So setting it to 5 minutes runtime you get a cast of 500 meters.
The Kontiki will then stop, open the bait compartment and drop the baited hooks and sinker.
It will then sit there until being pulled back to shore.
If you would like to learn more about the Fish Seeker and see it in action, make sure to watch our youtube video here: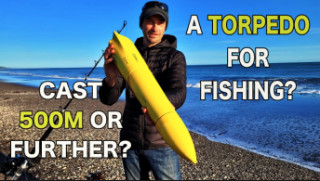 https://www.youtube.com/watch?v=ibaTts36OQI
Also, don't forget to create a free account here at fishingreminder.com if you haven't done so yet.
We predict the best fishing times for your particular location. Fishing at the right time can increase your chances of catching fish dramatically. Fishingreminder is an international website that can calculate the best bite times for any location, wherever you are.
Best of luck to all you fishos out there.