Bass are one of the greatest fish species to catch. Once seen, their appearance will never be forgotten. Their color sometimes changes according to habitat. Although the belly is always silvery-white, the backs of bass caught over sand are often very pale, while those from reefs and offshore wrecks are usually very dark - almost black. This comes about because the fish can adapt their color to blend into the background.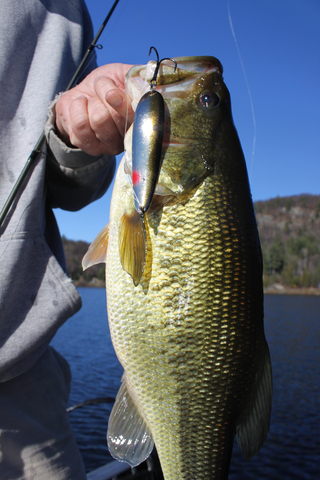 How To Find Bass?

It has been scientifically proven that bass calculate the amount of energy it will take them to go after and capture their prey. If the energy expended is perceived by the bass as greater than the return received, the fish will choose not to pursue the prey. Knowing this can help you become more successful as a bass angler.


Your goal should be to create the most favorable process and outcome possible for you. Accomplishing this revolves solely around a very simple and basic rule. You must understand bass and their feeding habits, patterns, and their predictable behavior.


Predictable behavior is determined by their habits, life cycle and the natural reality in which they exist. Understanding these will let you capitalize off their predictable behavior and increase the number of successful bites and hooks while fishing.


Subdued sunlight or shade combined with color preferences by bass are also a factor. Knowledge of these factors let you choose the right color lures or bait and improve your chance for catching more bass.


Trees, logs, plants, creeks, coves, banks, and shorelines create the travel route followed by bass. Observe and log your experiences and your knowledge about this fish will increase and improve to the point where you understand the habits and predictable behavior of bass. You'll no longer have to depend on luck or chance. This acquired knowledge helps you to know instinctively where to find bass. You can use the fishing diary at fishingreminder to log your catches and stay on top of the game.


Lures, Baits and Equipment You'll Need

Many beginners feel confused by the choices in equipment for bass fishing. You should begin with a rod and reel with six to ten pound line. The actual tackle you choose will depend upon the style of bass fishing you choose. Will you be fishing in shallow or deep water? Will you be fishing from a boat or from the shore? Both dictate what rod and reel you'll use and what line weight and lures.


Fishing from a bank or boat requires you use a six to seven foot medium, heavy push button rod and reel combination. This is for both bait casting and spinning. Be sure you use a strong ten pound line with a #4 live bait hook. By turning the hook up slightly by around 10% and sharpening it, you will ensure that the bass you catch stay hooked.


When fishing in deep water or dark cloudy water, you want to choose the right sinkers and weights. Because bass are highly sensitive to vibrations and sounds, you can use these to lure the bass and trigger their feeding instinct. On a hot, humid day bass tend to model humans by going to their feeding ground where it's cooler. Bass often swim beneath lily pads to shade themselves.


Use These Luring Techniques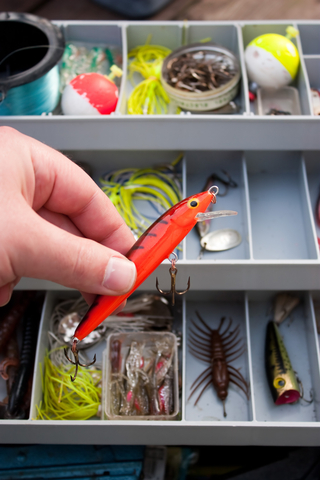 Learning to use the right equipment with the luring techniques which follow will increase the number of bass you land. Here are a few luring techniques to master:


1. Jerk Baits: These are top water or surface water bait which has a slight twitch and stop retrieve. Under water it retrieves more slowly. These are longer, minnow-shaped plugs in various colors and shapes. You can also use a suspended jerk bait for deeper water by teasing the bass through jerking to bite the bait. The Jerk Bait is a favorite of many bass fishermen.


2. Jigs and Poppers: Jigs are like a dressed up hook with lead that usually has a rubber or plastic skirt or rubber body. Bass fishing experts combine jigs with a plastic worm or frog. Poppers are good for figuring out where the bass are located. Retrieves with poppers are jerky and fast as a top water lure.


4. Buzz Baits: These are like a spinner bait with a flat surface that allows it to surface speedily. It triggers the feeding instinct of the bass by mimicking a minnow swimming along the surface.


There are, of course, others besides these. The more important thing to understand is what bass actually eat … when they eat … and where they eat. When your lures or baits appear to be prey or foods eaten by bass, you'll catch more bass more often.


As you get older and become more shrewd and mean, you learn not to waste good bass fishing time, even when friends and family are getting married or dropping dead all around. Comes the tide, comes forth the angler, and the only way to catch bass consistently is by answering the call of the tide at any time of the day or night. Because bass have a fairly exact notion of how much energy to expend in pursuit of food and the sea conditions they find favorable, they tend to operate within a fairly narrow band of tide and weather conditions. This in turn makes their habits fairly predictable. Once you suss out what they are up to in any given location, you can rely on the formula working more often than not. The trouble is getting the formula right, and not making the wrong assumptions about what influences the behavior of the fish. This is where fishingreminder comes in. Check fishingreminder for best bass fishing times for your location and setup email reminders so that you don't miss out on any great fishing days.